So years ago, there was a common theme among many paintballers that there was no such thing as a paintball "sniper". I used to argue about it and try to convince players that someone COULD actually play as a lone assassin/sniper and do quite well in a large game playing as that role. But, it was often looked at with ridicule and laughter by some of these players...
Then I started making videos that showed some of the long range hits I was capable of doing while playing with regular paint. I often shot out players at 300+ feet away during games. As the backspin barrels on the market had changed the game. But, I couldn't capture it on film...
So I went out and bought a high end camcorder that shot in 1080HD with 15X optical zoom. I figured that would go out there far enough to see the hits. I figured out how to capture good footage with that, but it didn't go out far enough, as going all the way zoomed in made the field of view so small that it was really hard to capture my kills at those ranges on video.
Fast forward to today, and I am now running a 30X optical zoom camera on my ZoomCam. I play with it set between 15X and 20X optical zoom filming in 60fps 1080i HD during my play and I have captured on film a 345 foot elimination. (I digitally zoomed in on the footage to get 50% closer). And I knew I was on to something.
But, it doesn't show the stealth or way a player in camo, who is good at using their camo can get within feet of other players without them noticing.
This year I paid (my second time paying to play paintball, as I usually only play at free fields, outlaw style) at our local fields big scenario. There were over 600 players in attendance and my general tasked me with "doing what I do" on the field. Which meant, go out, and sniper as many medics as I could, and try and take out the general and his top men...
I decided to make a video showing how I hunt with lots of the tips and tricks I have learned over the years, for those few players who enjoy playing on their own deep in the woods during a large event. I figured a few of my friends would enjoy it, but seriously, this video is LONG, and I figured there was NO way people would sit down and watch over 18 minutes of me sneaking around in the woods...
I was wrong. This video has blown up, over 30,000 views in less than 2 months... Hundreds and hundreds of new subscribers. Hundreds of likes, and comments. It is crazy... I never in a million years thought that a video like this (my zoomcam flash card flaked out and I got NO zoomcam footage from this event, such a bummer) and even with no zoomcam footage, it still holds the viewer at homes interest and the average view is over 7 minutes (meaning lots of people click it and quit after a minute or two, but just as many watch the entire thing...). This video wasn't featured on any website, (other than where I linked it). And the majority of the views are coming from youtube searches.
Anyway, if you search youtube under paintball sniper, or paintball assassin. This video is one of the top results, which is pretty shocking to me! It is now averaging over 1,000 views per day and growing like crazy.
Hard to believe when you realize I am playing with gear that cost me a total of $30... I spent more on paint for this game than I did for my marker and gear! (lots of it was gifts over the years, but the A-5 I traded a guy a bow I had that I bought for $10 at a yard sale, even trade!... ). Mask was a gift, Camo was a gift, my remote line was free (got it off craigslist with a gun, and sold the gun for more than I bought it for, and kept the remote line).
I am running my custom MonsterSpin barrel system that I came up with in this one (which is a new style Flatline with an Apex 2 tip tape modded onto the end) and I was using fresh Marbalizers.
Here is a recent picture of my current A-5.
I also just figured out a new way to film paintball. I call it the BoomCam, I took my tree trimmer,and removed the saw, and the cutter blade, and mounted a bracket onto the cutter assembly (so it tilts) I mounted my old high end camera with a fisheye lens. It allows me to capture really cool footage from my events at my field, so this will be in use this year at Trails of Doom (my backyard paintball field) events.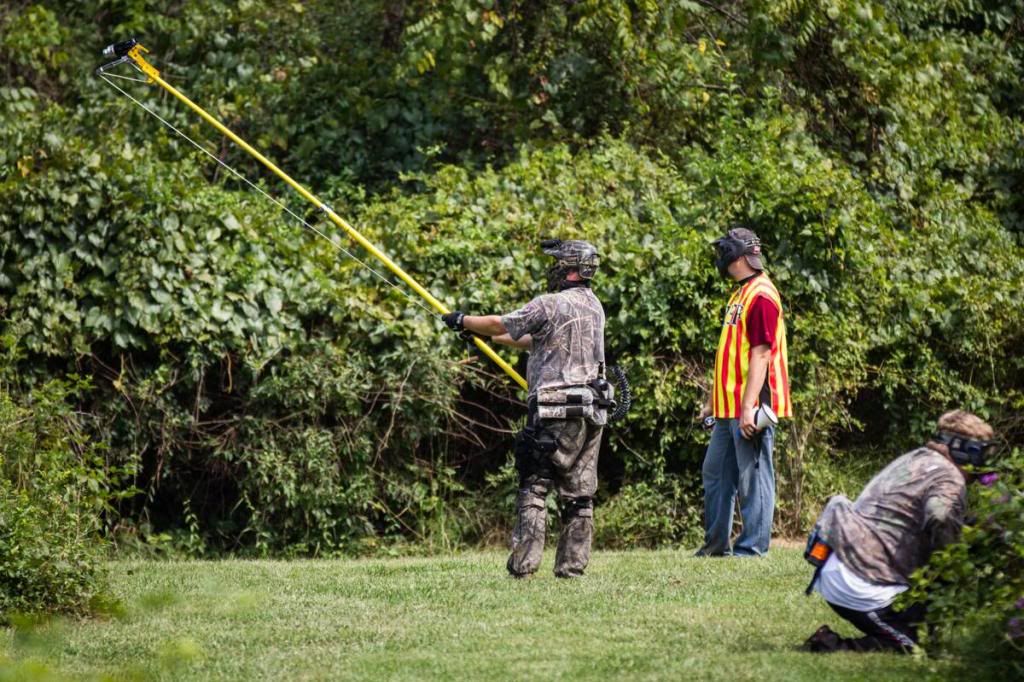 So many ideas, so little time...
TLDR. I made a video, and it got a lot of views, and some of my paintball filming innovations. Admission... I sometimes play as a paintball sniper...