I'd say they are pretty different...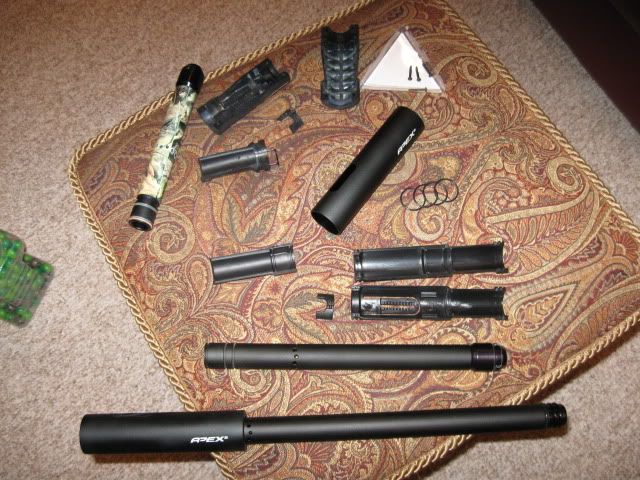 The Apex 1 has less ramp than the Apex 2. I set my Apex 1 at 5 clicks for the majority of my shots, and the Apex 2 shoots the same at 3 clicks, and 4 clicks is even flatter. Where 6 clicks on the Apex 1 is hooking the paint.
Plus the Apex 2 has a longer tip that locks in better to the barrel meaning the paint hits the ramp sooner when leaving the barrel giving a little more time on the ramp to "smooth" out. So you get a slightly more consistent shot, as everything has tighter tolerances. (the ramp is tighter as well, so modern small paint rolls a little better in it).
If you have never used either, and you put them on side by side, and set the Apex 1 at 9 clicks and the apex 2 at 9 clicks, you will see that you can hook shots behind bunkers at much closer ranges on the Apex 2 because it has more ramp.
Is that more ramp worth paying for?... That is up to you, I have lots of friends that are perfectly happy with their Apex 1 at 5 clicks and they just leave it set there. But, some guys like the added spin, so they go for the Apex 2.
Although the Apex 1 is much easier to adjust while playing, as the apex 2 "button" feature makes it harder to switch ramp positions while playing, especially with gloves on...
I like both. But the Apex 2 looks cooler, and hooks more, so that is what I use. Here is mine at 250 feet set at 4 clicks...
http://blip.tv/trailsofdoom/if-i-see-you-i-can-hit-you-tippmann-a-5-long-range-shooting-250-feet-6515953
Now, don't expect to be able to hit guys at 250 feet right after you get one, as I have been using the Apex system since they came out... But, with the right paint, and someone who has a lot of practice with one, they are amazing...