i went the easy route and bought a rail riser. brought my sight up to just where i wanted it...
you can see it below between the built in rail and the sight.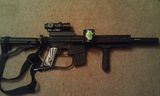 Apart from that, im sure one of the modders at my home site could be a little more creative...
alphablackpaintball.com