So I am pretty new to paintball (playing 5 years now) and I have only played once at a "real" field. I have played many times at outlaw fields, with the majority of my games at my own private field in my backyard. I typically play fall/winter/spring.
Speedball looked interesting. Except it is expensive and (no offense) ugly to set up a speedball field, I didn't want to spend a fortune on blow up bunkers which wear out, or large pallets, and drainage stuff to litter up the farm…
But, I can grow a serious weed patch… Which I can easily mow removing any evidence of the wars that have taken place on that parcel of land.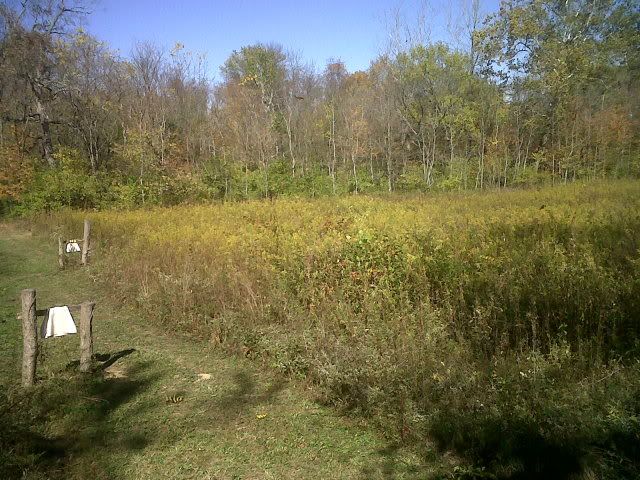 So that is what I did. I let it grow all summer, only mowing it in the early spring to reduce the briars. I keep my shooting range mowed, and let the rest of the 1 acre field just grow.
Then once the grass stops growing in late October, I mow a D pattern into the field, followed by 15 foot zigzagging and a couple of interior shooting lanes. The size is pretty large, with 150 feet between the two flags. And the D goes out to about 175 feet at the furthest point. So you can shoot across it from one side to the other, but unless your gun is accurate at long distances, it is hard to get a hit, and very fun. My mower is 62 inches so the paths are only about 5 feet wide.
The rules are simple. You have to stay in the field. You can't go on the shooting range, except at the ends of the D where the flags are located. One hit and you are out, regardless of breaks (we don't play with refs, so it is honor system). You have to wait until you enter the shooting range to start firing. (So no one can just fire from their flag and eliminate the other team waiting to enter the field of play). If you eliminate the entire other team, the game is over, and you don't have to capture the flag.
We have played this with up to 16 guys playing, (8 vs 8) it is VERY fast paced, and the weeds act as cover, as many times paint breaks when it hits the weeds. You can stay on the mowed paths, (faster) or go through the weeds. When standing, your head/shoulders are pretty much all that show. So we usually have a bunch of headshots. One side doesn't grow as good so it usually is shorter than the other side. This is a very fun way to use a ton of paint, and have a blast with your friends.
I call it, Fieldball, at the "Field of Doom".
This footage was shot this year, 4 vs 4. We played three different days on the field (we play monthly) and I don't have footage from all our games, when it snows it knocks down all the weeds. So the fact that it is only there for a short time, adds to the fun when it is finally ready to use. Forward this video on if you liked it, subscribe to my many other outlaw style paintball video's on youtube. Please post any input you have on this concept.


Edited by FreeEnterprise - 09 February 2011 at 9:46am