Come out and play the entire weekend at Giant Alpine March 6th and 7th for the West Coast Castle Conquest + Blood Diamond Event!!!
BLOOD DIAMOND III : The Infinite Prism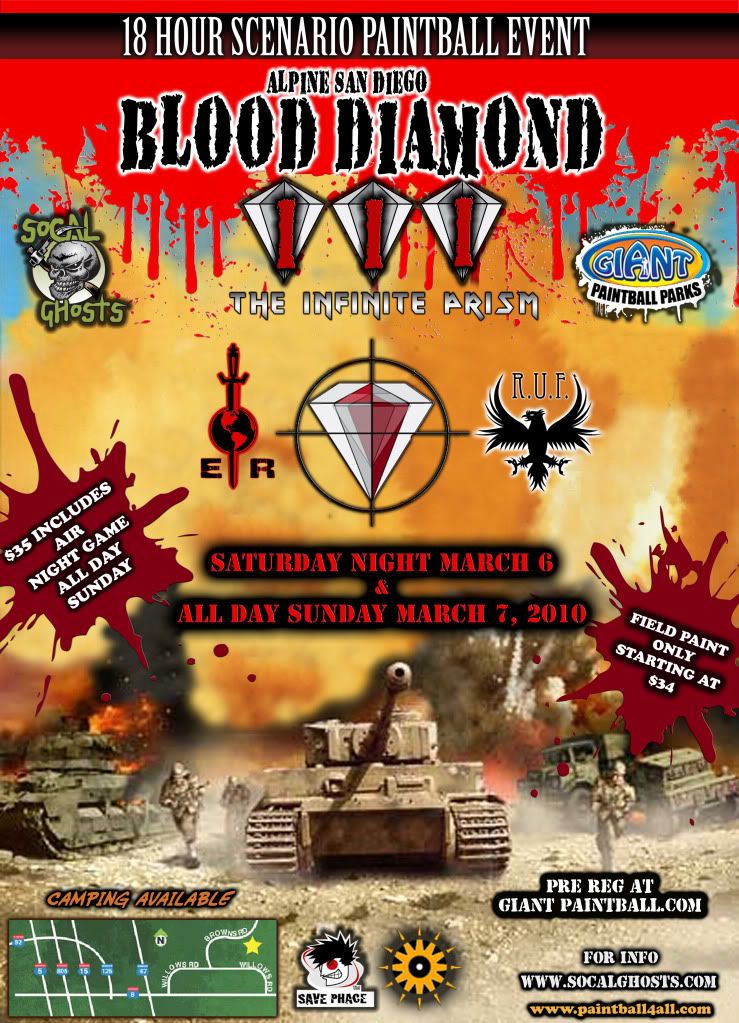 For more information on the West Coast Castle Conquest taking place on the same weekend at the same field, the website is here: http://www.castleconquestwest.com/ STORY
Blood Diamond III
-The Infinite Prism-
Written by Vector Control of SoCal Ghosts Scenario Paintball Team
Journal of Adamas Archer
October 6, 2003-Rhodesia
Its been five years since my brother Danny died trying to save the runaway prisoner Solomon Vandy. I tried for weeks to convince the leader of the RUF (Revolutionary United Force) to let me into their borders to find Danny's body so I could bring him home but they kept coming up with excuses why I couldn't. Before Danny left for Liberia he sent me a postcard, all it said was "My body of knowledge has always been cartography." At first I didn't understand what he was trying to tell me, it puzzled me for weeks why my usually straight forward no nonsense brother would send me such a cryptic message. Then one day while I was driving home it hit me like a truck. A map.
I remember back to my last telephone conversation with Danny, he told me that he needed to show me something. Something that would give us a fortune beyond our wildest imagination. He wouldn't say much more than that over the telephone. He said people were watching him and he was being followed. But that he made a map and put it in the safest place possible. I think he tattooed the map on himself.
Whatever it is he wanted to show me, I can't find it unless I can get to Danny's body.
October 10, 2003-Rhodesia
I read in the paper that the government of Sierra Leone hired a mercenary outfit called Executive Results to combat the RUF running amok in the countryside. I did some research and discovered that these Executive Results guys are a tough crowd. The company has some pretty deep pockets and their hands are in almost every research and development project for the Department of Defense. I wouldn't be surprised if they played just as dirty as the RUF. ER bills itself as a company that specializes in the eradication of particularly stressful problems. I call them assassins, liars and thieves. No better than the RUF.
December 14, 2003-Rhodesia
Apparently the head of Executive Results didn't like the way the leader of Sierra Leone was running things so he staged a coup, taking over the government and putting a price on the head of every RUF member. The RUF in turn, put out an order to kill on sight any mercenary sporting the Executive Results logo. I find this amusing. Maybe I can use the chaos to my advantage and somehow get into Sierra Leone to get my brother's body.
January 11, 2004-Liberia
I was able to find passage into Liberia with a documentary crew posing as one of the camera men. Our truck broke down in a village called Shenge. By Fortune or Fate I ran into a family member of the guy that my brother gave up his life to save. I hoped that he could give me some clue as to what Danny was hiding but the man wouldn't budge. So I invited him to the local bar. It wasn't long before he told me that Solomon Vandy had come back to Shenge a few weeks ago and stayed with his family for two days. It was then that Solomon told him about the Infinite Prism. Apparently its some legendary stone that was discovered in the 1800s but somehow lost during the local civil wars. Its location was speculated and rumored about for decades. After some time, it simply became a myth. A myth that Danny was trying to find.
January 14, 2004-London
After hearing about the Infinite Prism I called an old friend in London who specializes in geology and asked if he could tell me anything about the Prism. He became very hush hush and said he didn't want to speak on the phone anymore about it and asked if I could see him. I lied to the film crew and told them that I had a dying relative back home and had to leave the country immediately. I took the first flight out of Liberia to London.
My friend gave me a very thorough and academic lesson on the history of Sierra Leone's ongoing civil war and the use of Conflict Diamonds, or Blood Diamonds, as a means of currency. Very recently, the leading diamond distributor in the world, DeCours began conducting geological surveys in the areas of Sierra Leone where the Prism was rumored to have been lost. It would seem that DeCours' pockets are just as deep as Executive Results. In fact, I would say they share the same pants as I was told that DeCours recently hired Executive Results to ensure that all areas were cleared of RUF forces where they would be doing their surveys. The RUF all but gave up fighting ER as they thought they the ground they were fighting over was void of anything potentially valuable. Then somehow the RUF got wind that DeCours and ER were looking for the Prism and suddenly the RUF started to flood the surey areas with more soldiers.
Seems like everyone wants this Infinite Prism. When I asked why is it so important, my friend told me that it possess very unique chemical and physical properties unlike anything else on earth. That major corporations would be willing to pay millions just for a piece of it to conduct research. That and it's also a 900 karat diamond.
January 28, 2004-Sierra Leone
I made it inside Sierra Leone. Now all I need to do is find my brother's body to tell me where the diamond is exactly. I don't much care which side I'm on, I'll go with whoever can pay the most and get me to my brother.
The hunt for fame and glory is on! Will you side with the bloody revolutionaries of the RUF or the cutthroat mercenaries of Executive Results? Will you help Archer locate his brother or use him to get the Infinite Prism for yourself? There are no good guys when greed and riches are the only objectives. Choose a side to join the carnage at Giant Alpine Paintball Park on March 6 and 7, 2010.
Rules, Roles.....and Commercial on the way so stay tuned More to come


Edited by Skeletor - 29 January 2010 at 4:28pm