Well, after many months of searching, and over 3 months of dealing with one person on a trade, it finally happened.
I got my mag. It has level 10, ULE body, intelliframe, am/mm rail(might get a new one), chrome gas through front grip, stock cocker barrel, dye stickies(i love them, so squishy) and, the classic valve.
Now, my decision comes to Pneuing, Retro valve, or taking the cheap, and most likely way, getting an RT on/off and replacing it with the one on there now for a lighter trigger pull. Pretty sure ill go with a new on/off for like $20.
Here they are
. And the body isnt really like that kind of blue. Its, just, odd in the pictures.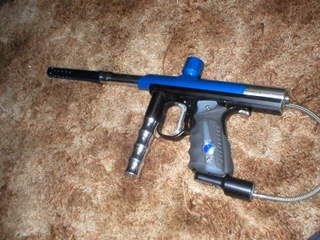 The guy didnt send me his revvy or the old trigger frame, so i convinced him that i was going to keep the egg.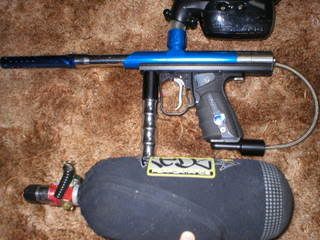 Comparison to my 88/4500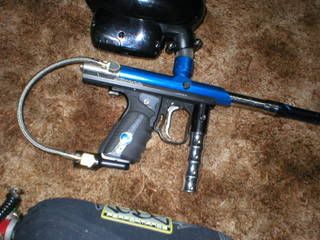 Not to sure about having the air lines on the right side(im right handed), and already the fitting is cutting up my wrist. I will get a new, shorter line eventually, when i get a good bottome line setup.
I dont know what im going to do with the air lines/ asa. Im getting an on/off for sure, but, i think ill get a stilleto/endo type of drop for it. Maybe a CP Classic, but, the blue matches really well to the body, so i might pass on that. AND, i dont know if ill run the air line to the front grip of not. Im not sure if its in that kind of condition anymore.
When my 3rd party got it, he actually called the guy and told him what a crappy job he did taking care of it/cleaning.
Enjoy
**edit** Oh, and Ric, im still waiting for that PM!


Edited by MeanMan - 19 March 2007 at 5:35pm