So I know with the influx of new players, players that are moving up, and just the general population that can become perplexed at which of our game's masks are right for them, I figured it wouldn't hurt to at least make a guide for the holidays.
I'm mainly going to focus on the higher end masks, because...Well, anything less than the best our market has to offer is basically all the same. The anti-fog WILL wear off, your foam is going to wear down, and eventually, you'll just out grow the Scott mask that came with your new gun.
Dye Precision Products Masks
(Invisions I3's, etc.)- In all of my years of playing, this has to be my least favorite of any of the "high-end" masks I've owned. Bulky, hot, and a pain in the butt to clean. They do tend, however, to offer some of the best "jawline" protection, and many of the people I know think they can be quite comfortable. I HIGHLY suggest trying on/testing out a pair before investing in them.
Price:
You can get a new pair of the 05 Model Invisions for around 40-50 dollars, where as the newer versions of the "I3"(below) can run as high as $100.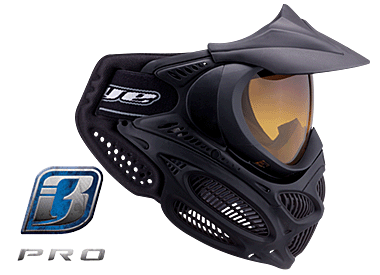 JT Products Flex-7s/8s/ProFlexes/etc
.- JT has been making flexes for years, and they are probably the most widely owned and used of any "high-end" mask. I wear mine when it's too hot for my e-vents. They are really cushy, and offer a nice range of vision, but the chin line leave something to be desired, and if you like a snug mask, they aren't for you. Flexes are also the easiest to modify, customize, "up," whatever...so if you plan on following the "Agg" crowd, or have a scheme in mind to make your mask fit YOU, then the flexes are for you.
Price:
New, they can range from $40 dollars for a low end Flex-7 to $70 dollars for a new LE Flex-8, and I've seen customized, "up'd" flexes go for around 200 dollars on PBN before.
Flex-8
V-Force Profilers
- They were the first "high-end" mask I owned, comfy, easier to clean than flexes, and I prefer looking through them as well. They fit pretty close to your face, though with the smaller gaps in the front, breathing is more restricted than others. I only wear mine for when I'm coaching now during x-ball though. Profilers tend to be dying out in a lot of places, and I think that is mainly because of the Vents offering a very similar package in a lighter get-up. I definetly suggest trying them on, because many people prefer the space that the Profilers offer away from your face on the inside.
Price:
Profilers tend to run from around $70-80.
Events E-Ventz
- Without a doubt the (In my opinion) best pair of goggles out there. They fit snug to your face, almost like a second skin. Easier to clean, by far, than any other available mask. Cleaning is as simplay as rotating two pieces, and taking out the clasps. I've also gotten a good number of bounces off of mine, though I can't promise that's not because they were a special design for Infamous, as I DO have a prototype pair. From the newer pairs I've worn, they have only gotten even more comfortable, with soft rubber insets throughout the mask to ensure a snug fit, and comfort. The only drawback I find is that occasionally on extremely hot days(>98* or so) it fits a little too closely to the face, so I swap to my flexes for some extra breathing room. The only complaint I've heard from anyone is that some people do not like how snug it rides on your face, I haven't noticed any problems with this though.
Price:
They run about $80 dollars new.
*Note* Eventz come standard with soft ears, but there is a slightly "lower" end version called the avatars. From what I understand, they are the same mask without softears. If you plan on buying these though, remember it will be illegal to modify them to accept soft ears.
Conclusion:
Honestly, if I had to tell you one mask to go and pick up, I'd vote for the Events. But, being the good forum citizen that I am, I urge each and every one of you in the market for a new mask to go to your local store and try them on. Everyone has their own little quirks about how they want their mask, and I just thought this may be a helpful little guide. Note, just because these were the only masks I listed, does NOT mean that there aren't more masks out there. Every single one of the masks above tend to have mid- and low- end options, just remember, you get what you pay for.
If you would like to add anything, or if I have made any errors, feel free to pm me.
I hope this helps, feel free to pm/ask me any questions you have.
Thanks to lester98c


Edited by usafpilot07 - 28 December 2006 at 8:33pm