yo you guys it was a MAJOR leak, and i fixed it completely.
problem solved.
here's what i did:
i took apart everything, right up until all i had
was hoses, nuts, bolts, o-rings, and everything,
than i blew through every junction and all were
perfect except one. i had always wondered why all of
the sudden i remember when i adjust that R/T screw all
the way in the piston would slide freely; well it wasn't
supposed to!! in the beginning i remember with the
adjuster screw for R/T all the way in, the pison wouldn't
move at all, and was very hard to push my trigger, but
than it was easy to move the piston so i knew something
was wrong. anyhow, i found out, when i was replacing
my R/T stuff with Super R/T stuff, i scratched one of
the barbs. this meant that in that certain spot, there
was a HUGE leak, unless i put the hose on the tip of
the barb, which i did to fix it. rather than replacing
the barb, i superglued my hose to the tip of it, so it
wouldn't leak at all, and all is well now, meaning;
when i adjust the screw for R/T all the way in, i cannot
pull the trigger or move the piston, NO LEAKS NOW, YEHAW!
well, i'm totally SURE this was the problem, my fault.
i am guessing when my superglue dries up, the cyclone
will function perfectly as well. man i was stupid to
botch up that barb. let me post a picture to show
you where the leak was.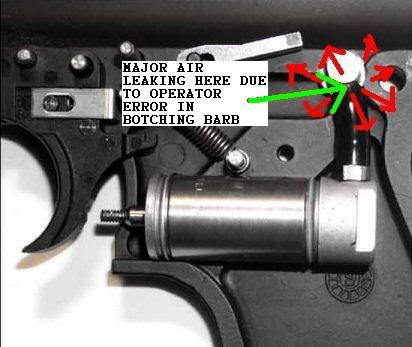 i am sure glad i wasn't lazy about this, or sent it away
only to find that it was my fault in the first place.
now i know how the r/t works, and that i need to be more
careful with air fittings. now my gun will work without
me having to hit that manual load long push button thingy
for this weekend my first organized paintball game.
young guns scenario. http://www.younggunspaintball.com/
full auto welcome back to my paintball gun.


Edited by flatlandpercy - 28 March 2006 at 5:24pm