Sorry for not Adding this one to my other thread.... but the other one is old and you wouldnt have looked at it if i added this to it.
This is an Unfished Ego I worked on in my last couple of days in my drafting class... as of tomorrow I will not have this class again for another 2 semesters.... here are the pics
Basically... just a pewter w/ black parts '05 Planet Eclipse Ego...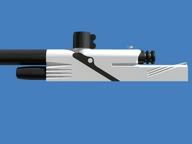 Not the best... hard to do the miling it has in Inventor... it is limited somewhat.
But what do you think..??


Edited by ctchofday